FEC's Chris VanVleet is elected 2nd VP of the IAAI!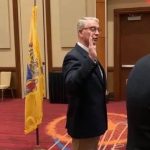 FEC Fire Investigator Chris VanVleet was sworn in as 2nd Vice President of the International Association of Arson Investigators at the 2021 Annual General Meeting.  Chris joins Rick Jones (Immediate Past President), Bob Toth (President), and Randy Watson (1st Vice President) on the Executive Board of the IAAI.
Congratulations Chris!  We know the IAAI is in good hands for your tenure on the Executive Board.